Large Cotton Bandanna (Red)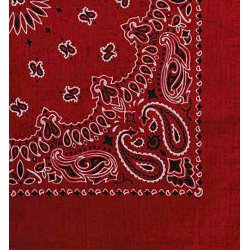 Click to enlarge
Description
A bandanna or bandana is a type of large, usually colorful, kerchief, usually worn on the head. Bandannas are frequently printed in a paisley pattern. Bandanas are most often used to hold hair back, either as a fashionable head accessory, or for practical purposes:
* Cowboys would typically wear bandanas around their face to keep dust out and keep the scent of their horse's manure away as they traveled slowly.
* Outdoor workers, such as farmers and cowboys, wear them around the neck to wipe the sweat off their faces and keep dust out of their collars.
* Wildland firefighters wear them over the mouth and nose to lessen inhalation of dust and fumes.
* Dancers and other athletes wear them during practice as a simple way of keeping hair and sweat out of their faces, or as part of their costume/uniform.
* Soldiers wear them to keep their own sweat and blood out of their eyes.
* Kitchen staff may wear them to keep hair from falling into the food that they prepare.
Large 100% Cotton Bandana
Measures 19" inches (x) 19" inches
Reviews (0)
Write Review