Component Video Cable + Stereo Audio L/R Cable - 6 Ft. Length - 5-RCA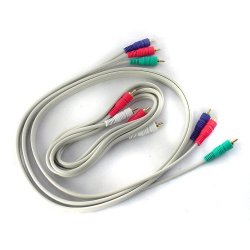 Click to enlarge
Description
High-Quality RCA-style cables for video and audio. Each connector is gold-tipped for premium tranmission of signal, and labeled "Video" or "Audio"(see macro-close-up)--No more confusion with all the wires behind the TV set! You will get (1) 6 ft Triple Video (Component-R-G-B) cable and (1) 6 ft. double audio cable (L-R) Beware cheap alternatives, these are the best!
Blue, Red, Green Component Video Connectors
Red / White Audio Left Right Connectors
6 Ft. Length
Gold Plated Connectors
Each recepticle labeled for easy installation!
Reviews (0)
Write Review