IPOD Football Speaker Pillow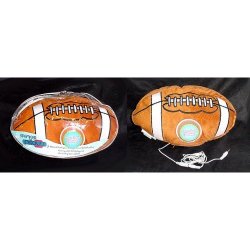 Click to enlarge
Description
This is the Football Speaker Pillow. It's your very own sound system built right into a comfortable football shaped pillow. It's made of very soft plush material so it's comfortable to lay on AND plays all of your favorite music. You connect it to your IPOD, MP3, CD, DVD player and many more. Forget about all the mess from headphones and messy wires, this hooks up directly to your music source and controls the volume directly from the pillow! All you need is a music source and you're set, the pillow already comes with the wire to attach it to the headphone outlet. Measures at about 14" x 8" x 3". Great to bring it on an airplane to enjoy the trip comfortably, or on a long road trip. Also it can also be enjoyed just as much at home. Note: Pillow is not a toy. Best for ages 6 and up. As well as pillow is not meant to be used as a sleeping pillow.
IPOD Football Speaker Pillow
Measures about 12" x 8" x 3"
It is a sound system built into a pillow.
Instead of plugging in your headphones to your ipod, use the pillow for a sound that will surround you when you lay on it.
Reviews (0)
Write Review