Classic Glass Multi-Hole Cheese Dispenser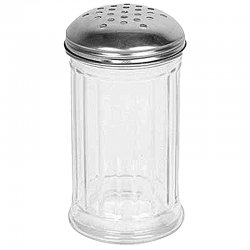 Click to enlarge
Description
Garnish your dishes in style with this awesome classic diner style condiment dispenser. Made of solid, windowpane style glass, this dispenser is identical to those you'd find in pizzerias and diners. A great piece at a price that cant be beat.
Classic Piizeria/Diner Style Glass Food Dispenser
Windowpane style glass design
Contains screw on large multi-hole top
Dimensions: 5.5" in height - 3" Diameter
Great for salt, sugar, garlic, cheeses, pepper, etc....
Reviews (0)
Write Review