Assorted Smiley Face Playground Balls 6pk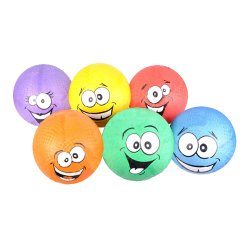 Click to enlarge
Description
Investing in children's physical activity is always worth the cost. This 6 pack of Smiley Face Playground Balls offer a durable means to promote physical activity. Whether its Kickball, Wall-ball, or Dodge-ball, this set of playground balls is perfect for the field. Priced to sell and ready to ship. Purchase now!
Durable Rubber Playground Balls
Dimensions: 8.5" L
Weight: 4.95 lbs each Ball.
Assorted colors: May vary.
DO NOT COME INFLATED!
Reviews (0)
Write Review