Cello Treat Bags - Teddy Bear Shaped Bags - 36 Cnt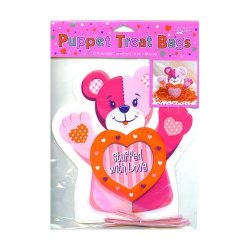 Click to enlarge
Description
This is for 36 Puppet Treat Bags bags. These bags are great for the holiday & Valentine's season. We are selling 36 of these Teddy Bear shaped bags. These great goody bags are perfect for small gifts during Christmas, the holidays, and Valentine's Day. Teachers can use them as well in school for gifts for the class. Each package contains 12 bags with ties to easily close the bags. Each bags measure to be about 7" Wide x 8" Long. Great For: Teachers, Churches, Gift and Goody Bags, and Your Family. Note: You will receive 36 treat bags, the picture shows one (1) package of 12 bags. You'll receive 3 of these packages...
Holiday Cello treat and stocking bags
You will be recieving 36 bags in total
Each bag measures out to be 7" wide x 89" long.
Perfect during Christmas, Valentine's Day, and the holidays
Every bag comes with its own bag tie so it is easy to close them.
Reviews (0)
Write Review