Glitter Leaf Shaped Cutouts - 5 Pack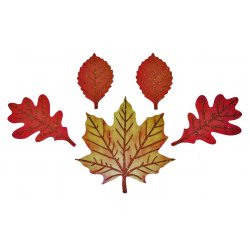 Click to enlarge
Description
Add some 'bling' to your autumn decorations using these beautiful glistening glitter leaf shaped cutouts. These cutouts feature some of the northeast's most popular leafs right as they change color for the autumn season. These leaves really stand out since the veins for all of them are accented with light reflecting glitter. Great for all fall decorating.
Large glitter leaf shaped cutouts - Package of 5 leaves
All leaves measure approximately 7" inches in length - Leaf width varies between 3" and 7" inches
Veins in each leaf accentuated with glitter
Please note: Cutouts and cutout variations may vary slightly from picture
CHECK OUT OUR OTHER CUTOUT DECORATIONS - COLLECT THEM ALL!!
Reviews (0)
Write Review