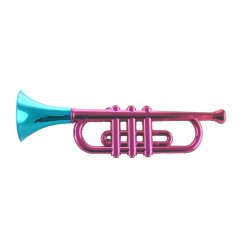 Click to enlarge
Description
13 1/2" long and 3" wide at widest point. Made of plastic. Assorted colors include but not limited to, purple/green combo, blue/red combo and purpler/purple combo.
trumpet is 13 inches long and made of plastic with metallic shine top them
Very easy to blow great for toddlers too.
comes in a assortment of colors
Great for preschool, kindergaden
also great for party favor noise maker for new years eve..
Reviews (0)
Write Review